DIG INTO TIKTOK WHIPPED COFFEE'S WONDERLAND!
by azeem__sarwar · Update Oct 8 2022
To get through the day, many coffee lovers look forward to stopping for an iced mocha latte or caramel cappuccino on the way to work. However, if you are unfamiliar with all the specifics of coffee and espresso drinks and frequently order the simplest drink on the menu at your neighborhood coffee shop without giving it much thought, let this be a quick reference guide for the most popular milk-based beverages. One of the most popular topics relating to coffee and milk froth that is currently trending in the USA is TikTok's Whipped Coffee.
These past few weeks, everyone has been raving about this whipped coffee recipe. This is the Dalgona variety of Korean coffee. It recently gained popularity thanks to a popular TikTok video demonstrating how easy and delicious it is. It is one of those recipes that, despite being incredibly easy to make, looks very classy. You can enjoy a coffee shop-style beverage at home!
WHAT IS TIKTOK'S WHIPPED COFFEE
The recipe for this Instagram-famous beverage involves whipping instant coffee with sugar and water to create butterscotch-colored foam that is then spooned over milk. Many people have been making whipped coffee for years, even though it appears to be a trend.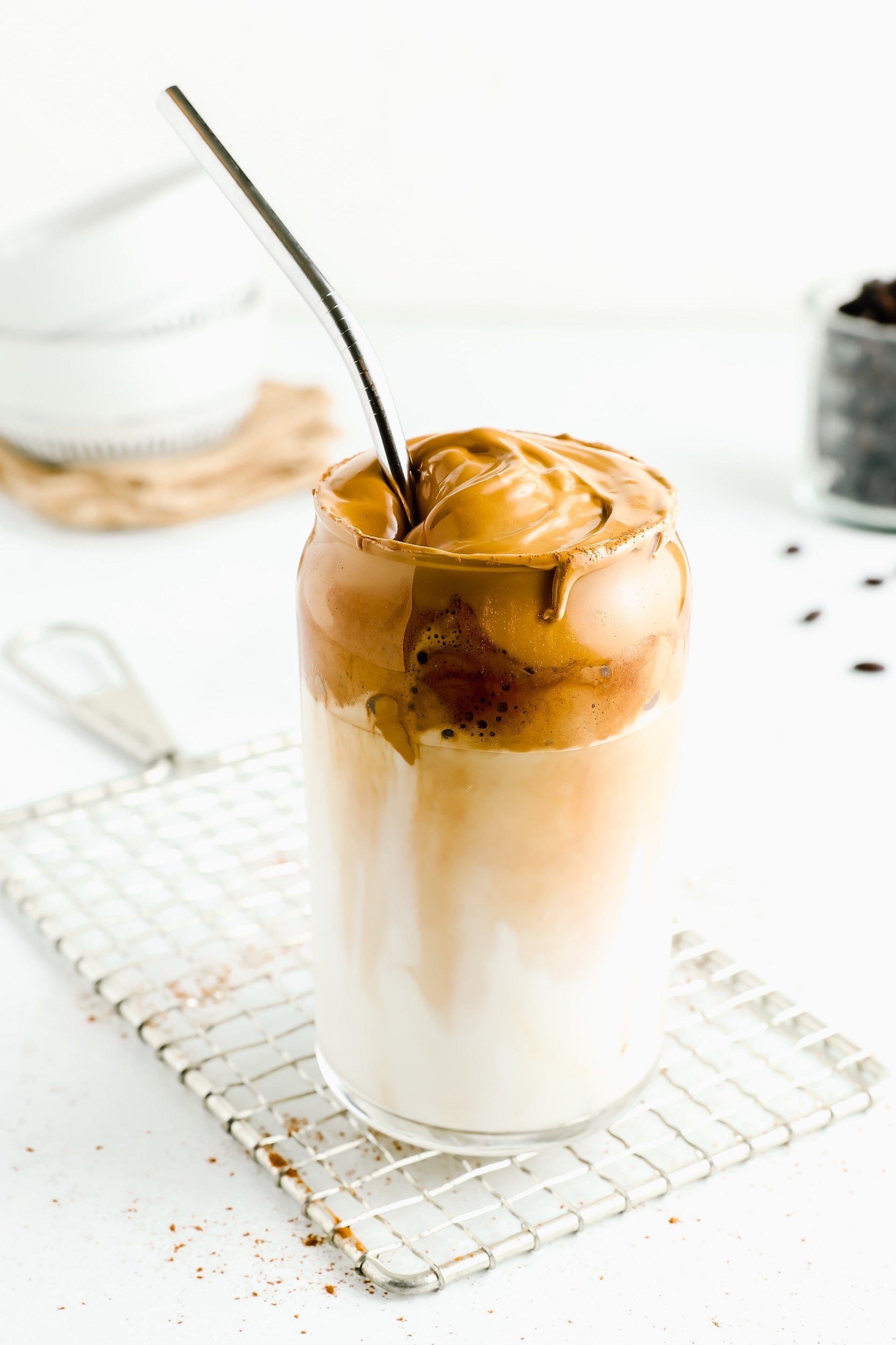 HOW IS WHIPPED COFFEE MADE?
Start with 1, 2, or 3 tablespoons of sugar, water, and instant coffee, respectively. The ideal serving size is one tablespoon divided into equal parts. But you can multiply or even keep increasing the recipe. It will initially just appear to be a concentrated form of instant coffee when you mix it.
You'll see that the consistency changes from liquid-looking dark coffee to a lighter, thicker consistency after a few minutes of whisking.
Continue whisking, though, as it will soon become even lighter in color and turn into an irresistible creamy, frothy whipped coffee. It will resemble peanut butter almost exactly. When peaks have formed on the whisk, you will have completed the task. You'll notice it is significantly thicker and maintains its shape.
The final step of the whipped coffee recipe can be started once you have finished whisking the mixture. Simply ladle that mixture over milk or water, stir it, and savor it. It can be served over warm or iced milk. Like an Americano, you can even serve it over warm or iced water.
Although there is sugar in this whipped coffee, the amount of strong coffee prevents it from being overly sweet. You can add a little bit of your favorite sweetened coffee creamer or one packet of stevia or Splenda to your milk if you prefer a delightful coffee beverage. Try garnishing the dish with a little bit of cinnamon!
Order milk frother Now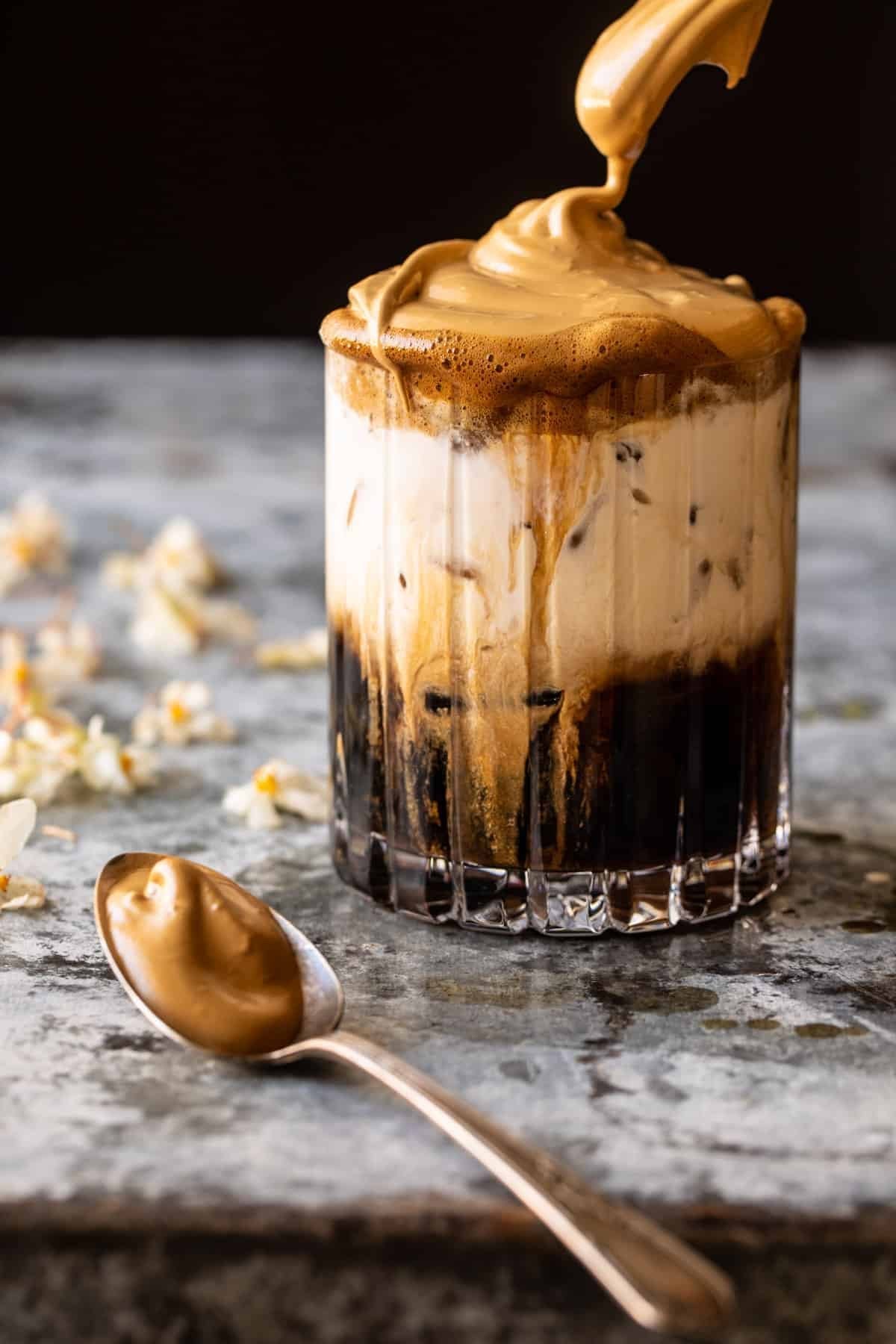 MAKING THE TIKTOK'S WHIPPED COFFEE MIXTURE INTO A WHIP
Use a small bowl so that the beater can penetrate the mixture more deeply.
Use a hand mixer with the whisk attachment or a single beater.
Be tolerant! Although it takes some time, it's worthwhile!
When you're ready to sip the beverage, stir the mixture together. This cannot be prepared in advance. In essence, you are whipping air into the mixture, and after a few minutes, it will begin to deflate.
When possible, use hot water. There is no need for hot water. It will whip up smoothly even with cold or room temperature water. But it seems like the hot water heats up more quickly.
Use a digital mixer for speed. A stand mixer and milk frother both functions well and are much faster! The time will still pass in at least five minutes.
Order milk frother Now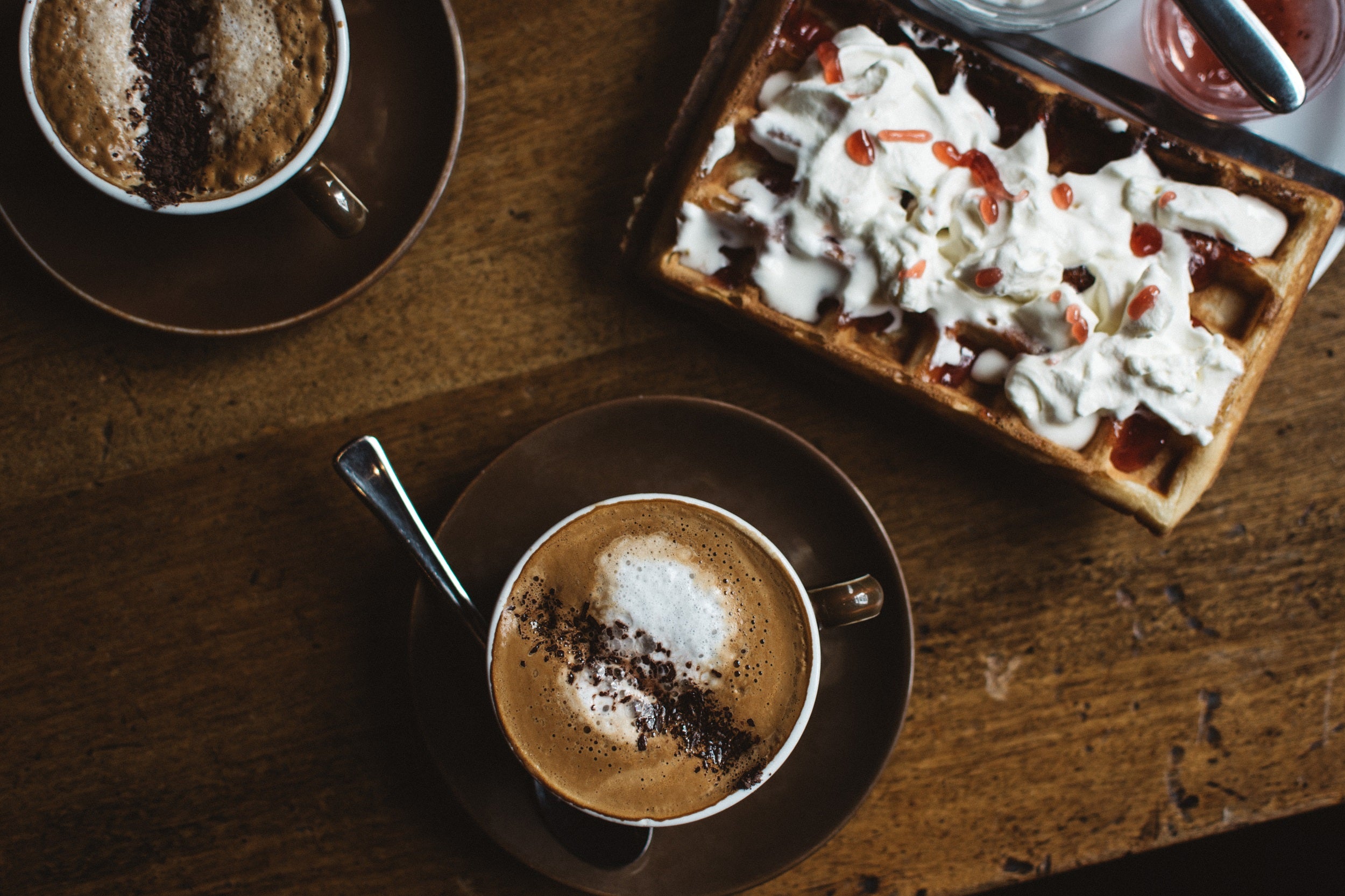 DALGONA WHIPPED COFFEE STORAGE AND FREEZING INSTRUCTIONS
Folks like to make a large batch of this delectable, whipped coffee and use it for quick morning coffee throughout the week. In the refrigerator, whipped coffee keeps its fluffy texture for several hours. Refrigerate in an airtight container for up to a week if you have leftover whipped coffee or want to make a large batch to save time in the mornings. Just before serving, you might need to stir it for a few seconds because liquid coffee tends to settle to the bottom of the container.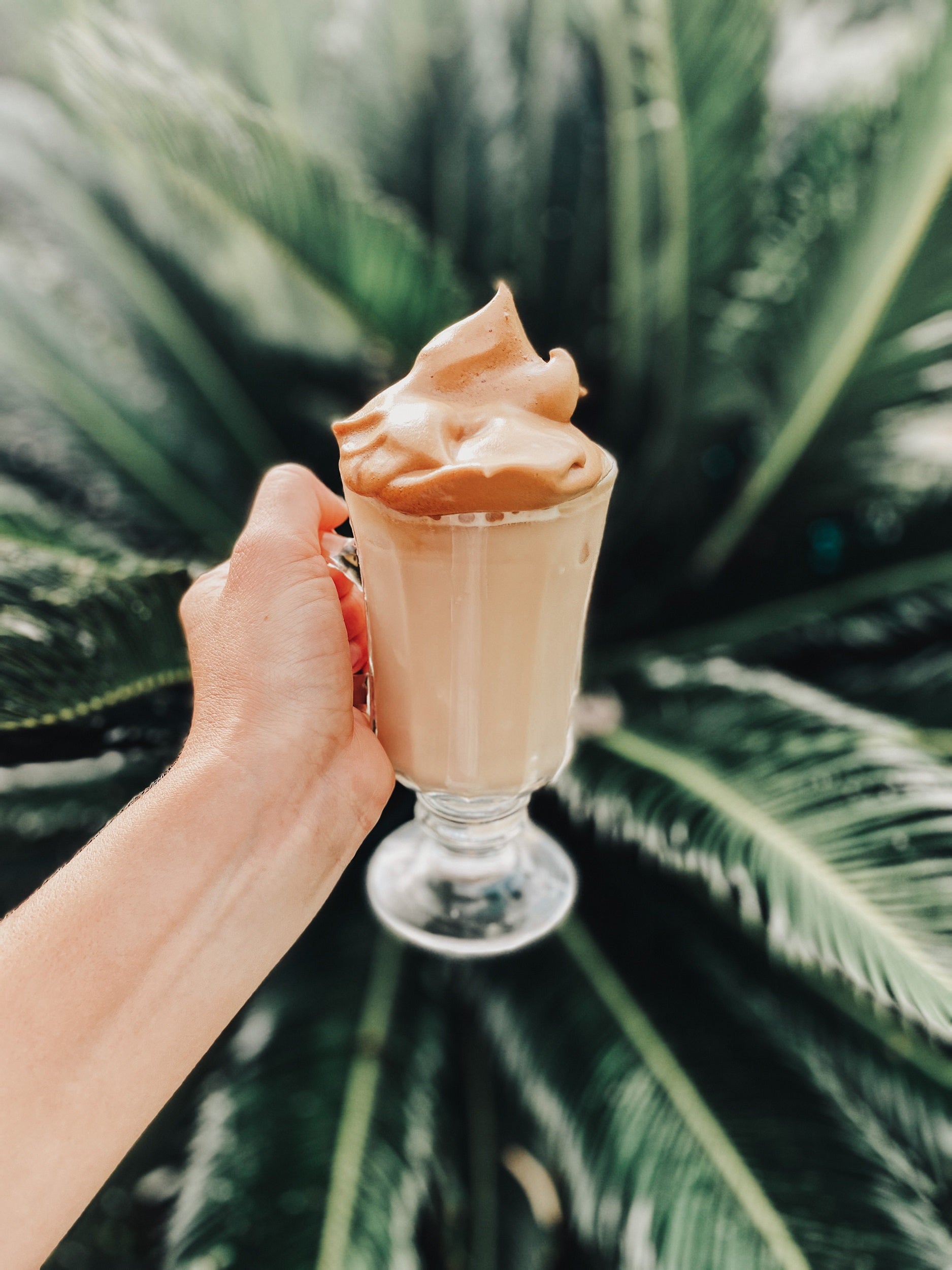 HOW IS THE TIKTOK'S WHIPPED COFFEE RECIPE SERVED?
Many people like to serve whipped coffee with some on top, over ice, and milk. However, folks favor thicker milk and whole cream concoction with little to no ice. Coffee can be a significantly individualized beverage, so don't be afraid to experiment. Try the TikTok Strawberry Whipped Coffee recipe if you want to avoid caffeine.
With iced milk, TikTok's whipped coffee is the ultimate treat. However, it can be served with a variety of desserts. If you're going to use it in desserts, make sure you whip it up enough to get peaks. Chai Spiced Muffins, Sweet Potato Muffins, Chocolate Chip Banana Bread, and Cinnamon Coffee Cake are all delicious options for this whipped coffee.
Order milk frother Now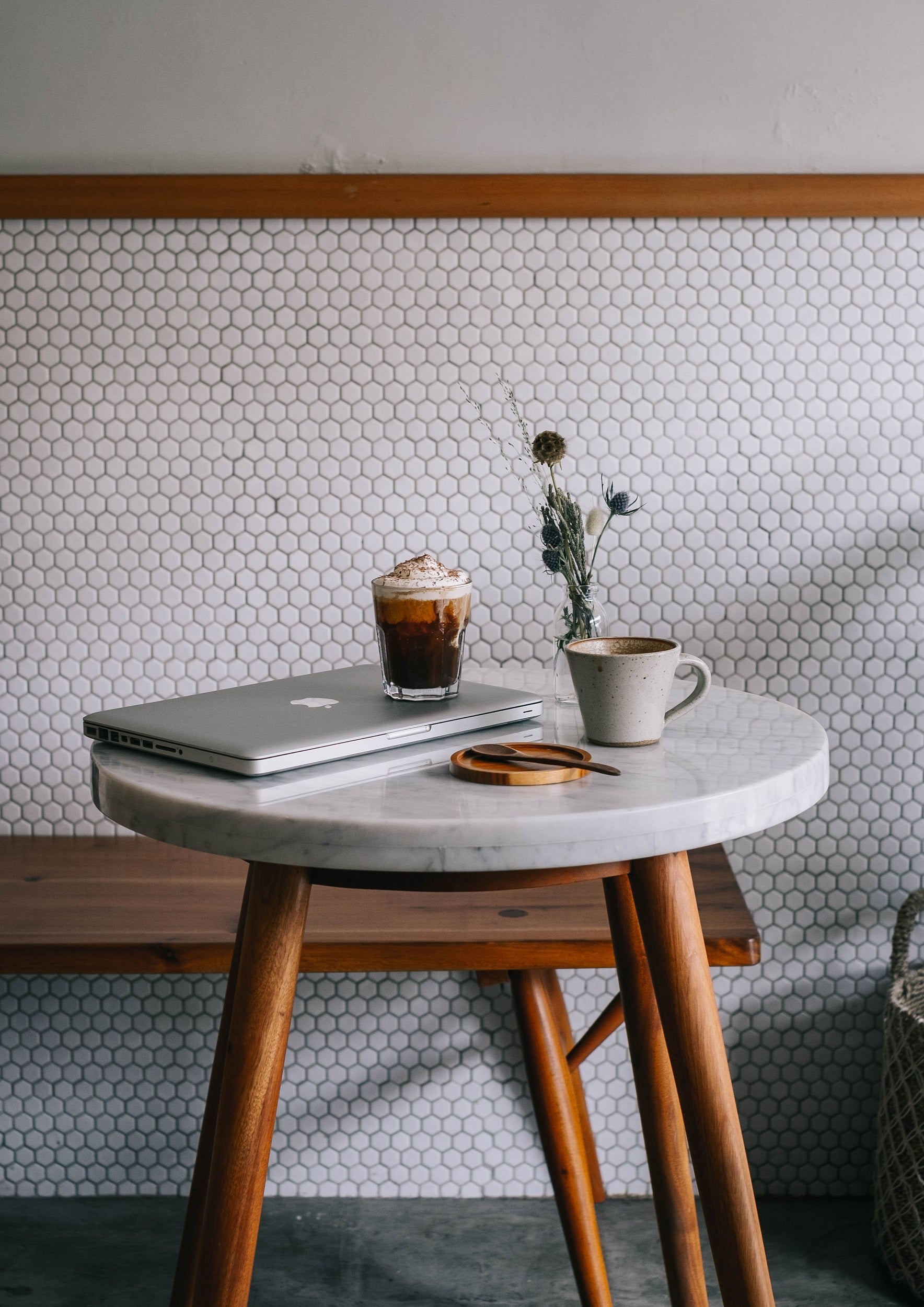 DO MILK SUBSTITUTES WORK?
Yes, any kind of milk will do, including water, whole milk, almond milk, and other milk substitutes. Unsweetened almond milk is suggested if you're looking for a less caloric and lighter option. Oat milk or coconut milk is suggested if you want a creamy, decadent version. It would be best if you stirred the mixture together before drinking the whipped coffee because the coffee foam is quite potent on its own.
VARIOUS FORMS OF TIKTOK'S WHIPPED COFFEE
Add one tablespoon of cocoa powder when you start whisking to make chocolate spread coffee.
Before whipping, add one tablespoon of high-quality vanilla extract to the mixture to make a vanilla whipped latte.
Order milk frother Now
TIME TO EXTRACT A CONCLUSION
Making this TikTok's whipped coffee at home is so much fun, and it looks beautiful too. Although whipped coffee is strong, keep in mind that it will weaken when combined with milk. If you prefer a sweeter coffee, you can add an extra tablespoon of sugar to your mixture. Use a smaller glass and less milk for a more robust cup of coffee. Use a larger cup and more milk for a weaker coffee, and this weekend, take a look at the buzz and give it a shot. This coffee type is impossible to miss!
Order milk frother Now