Sept 4, 2023
Hello everyone,

I'm very sorry for not updating the blog for a long time.
And thank you for all your support to the Maespresso 58.
Currently, we have received 80 pre-orders!
Based on the current progress, it seems unlikely that we will reach 100 orders, but we will still proceed with production and shipping as planned.

We have been quite busy lately, as we are approaching the shipping date, and this is our first batch production. To ensure the production schedule and quality, we are doing our best to inspect each component.

Right now, the metal molds for the basket holder are still in the testing phase, and we expect to conduct small-scale trial production in mid-September. Once everything is confirmed to be fine, we will produce all orders at once.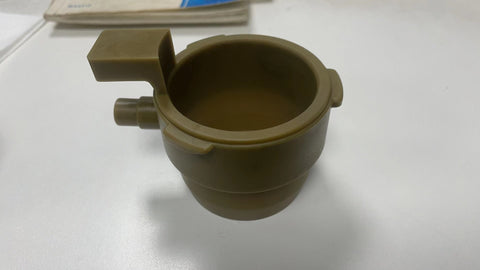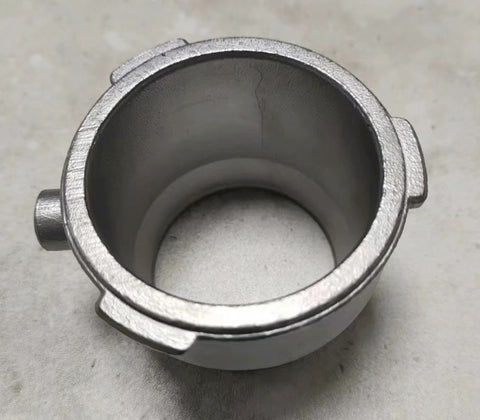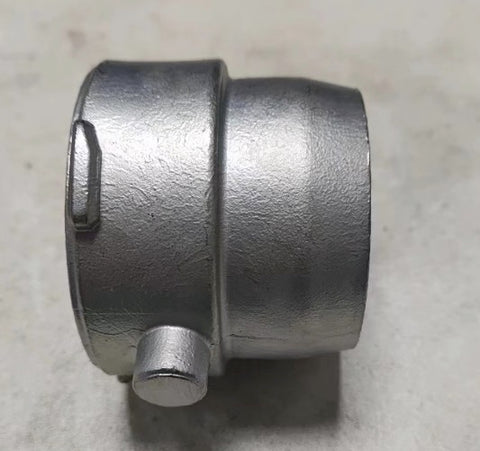 Regarding the safety of air from the air pump, although we believe it won't actually affect the extraction results, we have added space at the air intake for optional filter cotton installation. Users can choose to install or not install the filter cotton themselves. When we ship the products, we will provide enough filter cotton for users to replace or change as needed.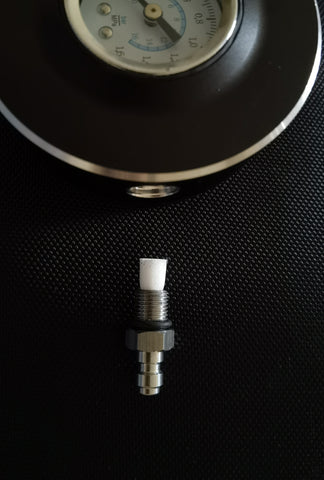 By the way, we have also conducted experiments. The experiment involved sealing the handle and introducing ultra-pure hot water, then pressurizing the water to 9 bar with the gas pump before sending it to a laboratory for water quality testing. The test results are still pending, and the final results should be announced by the end of September.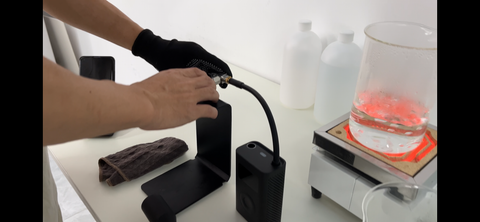 All right, that's all for the recent update.
If you have more questions or topics you'd like to learn about, feel free to join our Discord community (https://discord.gg/5FBrrUtS6s), and I'll be there to assist you anytime!

Your Sincerely,
David Smith
________________________________________________________________________
Aug 4, 2023
Hello everyone,
Today, I'd like to share with everyone the design of the basket and portafilter of Maespresso 58.
As you can see, the portafilter and basket of MP58 are designed as a single unit, which means the basket cannot be replaced. Nevertheless, our special basket can still accommodate a coffee dose selection range of 15 to 25 grams, with a maximum liquid output of 50 grams. The entire basket part and its bottom are made of a thicker and higher-strength stainless steel material. Coupled with the integrated and double-layer bottom design, the powder bowl's resistance to compression is greatly improved, and even after multiple extractions, the basket's bottom shape won't easily deform. (Conventional ordinary baskets tend to deform with a protrusion in the center after multiple extractions, which leads to uneven puck and causes inconsistent extraction.)
The integrated design is actually inspired by Weber's unifilter, but we made corresponding adjustments based on the characteristics of pneumatic system.
The bottom edge of the basket has a 15-degree slope. This design reduces the issue of excessive flow rate in the outer ring due to the channel effect and also makes it easier to knock out the puck after extraction, while facilitating easier cleaning of the basket.
Regarding the bottom filter design, our original concept was based on Reneka's Micro Sieve ultra-fine mesh basket, aiming to allow users to achieve higher extraction rates and enhance the sweetness of the coffee using finer grounds. However, this ultra-fine mesh design has two issues: Firstly, the ultra-fine filter mesh at the bottom is prone to damage, resulting in a relatively short lifespan. Secondly, more mesh holes provide very low resistance, necessitating the use of even finer grounds to achieve a more normal flow rate, requiring higher end on coffee grinders. Because of these two problems, we decided against the ultra-fine mesh design.
Currently, we use a design similar to IMS with multiple mesh holes, with diameters ranging from 0.25 to 0.3 mm. (The image below shows the aperture as viewed under an electronic microscope.)
 

This design ensures that even users with regular home coffee grinders can still perform normal extractions on Maespresso 58. If users want to achieve the extraction effect like Reneka's basket, they can also add a 54mm filter paper at the bottom (as the bottom is completely flat without rounded edges, the filter paper can adhere perfectly). This allows users to experience finer grinding for extraction (finer grounds are fully filtered, resulting in better taste), enhancing the versatility of the basket.

 

I hope this can help you better understand the Maespresso 58!

 

That's all for this week's update. If you have more questions or topics you'd like to learn about, feel free to join our Discord community (https://discord.gg/5FBrrUtS6s), and I'll be there to assist you anytime!

 

Your Sincerely,
David Smith


 

________________________________________________________________________

 

 

July 26, 2023

Hello everyone,

 

As of today, 20 people have placed orders for the Maespresso 58 (M58). We sincerely thank these 20 customers for their orders. Currently, there is a gap of 80 orders to reach our target of 100.

 

After the pre-order launch, we have received many questions and suggestions from our friends. Looking back, we realize that our promotion had many immature aspects.

One feedback mentioned the lack of comprehensive product usage information in our promotional materials.

Therefore, we are currently filming detailed product introductions and instructional videos to help everyone better understand the M58.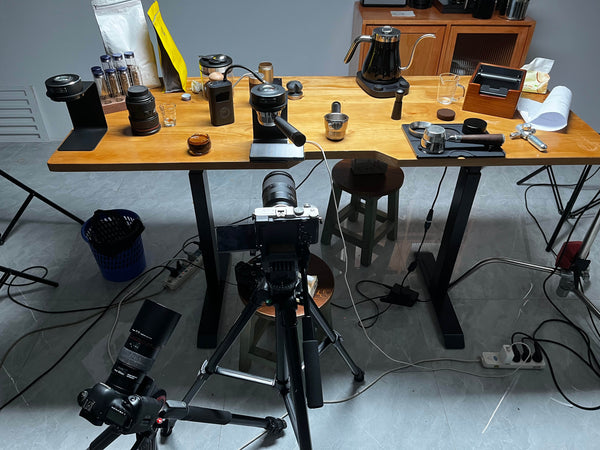 Furthermore, I would like to formally introduce the M58 using text only and provide a brief explanation of its positioning and easy usage instructions.
Product Positioning:
As an espresso enthusiast, if you have some knowledge about espresso extraction and are genuinely interested in making it yourself, you might want strict control over the extraction conditions. However, facing the high short-term cost of owning an espresso machine that can produce strictly standardized espresso (which often costs thousands of dollars), a manual espresso maker seems to be a much better start-off option.

If you are interested in manual espresso machines, it's likely because the playability of these machines is not significantly different from most expensive electric espresso machines, or even more enjoyable. So, if you are considering a manual espresso maker, why choose the M58 over the Flair or Cafelat Robot?

Here are a few reasons:
1. Consistency in extraction: The use of air pumps or pneumatic systems for extraction offers better stability and consistency compared to manual hand-pressing.
2. Better value for money: Similar or even superior product experience at only half the price compared to the Flair 58 and Robot.
3. Compact size: The M58 is more portable and suitable for various usage scenarios. Additionally, it does not require a flat surface for operation (as it is pneumatically operated).

Considering these points, the M58 stands as a strong competitor to the Flair and Cafelat Robot.

Of course, the M58 also has some undeniable downsides, such as generating some noise when using the air pump.
Simple Usage Instructions:
Using the M58 is a straightforward process:
1. Dose catching.
2. Distributing grounds.
3. Tamping.
4. Placing the screen.
5. Pouring hot water.
6. Put on the portafilter.
7. Power on the air pump.
8. Pressure relief.
9. Enjoy your espresso!
That's all for this week's update. If you have more questions or topics you'd like to learn about, feel free to join our Discord community (https://discord.gg/5FBrrUtS6s), and I'll be there to assist you anytime!
Your Sincerely,
David Smith
_______________________________________________________________________
July 20, 2023
Hello everyone,
We did a little upgrade to the M58 (Maespresso 58).
We upgrade the pressure relief valve from the horizontal type to vertical type, which we think it's much better to use and press!
Recently, we have received some feedback from the beta sample testers.
Those feedbacks are really helpful and our team is really thankful for those feedbacks.
The most unpleased parts are the experience of tamping, screen placing, and pressure relief. And fortunately, we fixed these issues.
1. Redesign the new tamper from the old version to the new version.
2. Add the small handle for the screen and make it easy to place upon the puck.
3. Add the pressure relief button.
Now, we believe the M58 is near its perfect state.
If you love the idea of M58 and hope to make real espresso at home without breaking the bank. M58 might be the one for you.
Pre-Order for the M58 is available now, and the first 50 orders enjoy a $100 discount, which means you can get M58 at $199.
Click the below link for preorder:
https://maestrihouse.com/products/maespresso-58
More information about the M58:
INS: https://www.instagram.com/maestrihouse/
FB: https://www.facebook.com/MaestriHouse
Reddit: https://www.reddit.com/r/Maespresso58/
Discord: https://discord.gg/5FBrrUtS6s
Btw, if preorder reach 100 orders goal, every will receive a special shot glass as reward!
Thank you for following us.
Your sincerely,
David Smith
_______________________________________________________________________
July 11, 2023
Hello everyone,
The samples for the final version are finally nearing completion! (Note: the air pump and the mini scale shown in the pic are optional accessories)
First, let me show you the details of the final version of the sample
Added pressure relief valve
New 2in1 Portafilter
Added silicone water sink
New puck screen with handle
New 2in1 tamper
The final packaging is also confirmed
This is our new travel case
Can be carried by hand or shoulder
The pre-order rules and prices of Maespresso 58 will be announced on 7/15. Please continue to follow us or subscribe in advance
INS: https://www.instagram.com/maestrihouse/
FB: https://www.facebook.com/MaestriHouse
Twitter: https://twitter.com/maestrihouse
Reddit: https://www.reddit.com/r/Maespresso58/
Discord: https://discord.gg/5FBrrUtS6s
Thank you for your support and attention!
Sincerely,
David
_______________________________________________________________________
June 26, 2023
Hello everyone,

This week, the various parts of the final test sample are gradually arriving!
From left to right are the basket, 2-in-1 portafilter, 2-in-1 leveler tamper, puck screen, and water sink.


Soon we can meet the official final version Maespresso 58.
After completing the assembly of the final version, the next challenge is to test the extraction effect.
For the new basket, we have adopted a solution to replace the filter at the basket bottom. Achieve high flow and low flow extraction results by replacing different filters.
This method of replacing the bottom filter has not been used by anyone in the market, so we should be the first guy to do so.
If you want to know how the specific extraction works, please wait for our final test results!
So that's it for this week's progress update!
Thanks again for your attention.
BTW, join us in Discord and we can talk about Maespresso 58 in real time:
Sincerely
David Smith
_______________________________________________________________________




June 19, 2023



Hello everyone,

I got some updates on the final version process.

This week, we're working on the packaging design for the final version:
The old version of the packaging did not protect the product very well. The main unit and accessories may rub against each other and scratch the surface.


(Old version layout)

So, we will use pearl cotton protective pads on the new packaging. In this way, all parts can be well protected, and the packaging can be better integrated.


(New package layout)

Of course the new packaging comes at a price.
Since we have re-adjusted the design of some accessories, we also reserved slots for air pump and coffee scale. This directly leads to our packaging being much larger than the old version.
The size of the old version package is 9.5 * 9.5 * 4.3 IN / 24 * 24 * 11 CM
And the new version packaging is expected to be in 11 * 11 * 5.5 IN / 28 * 28 * 14 CM



About final sample progress:
Everything is still going on as normal. Expect to see some accessory samples next week. With any luck, we can start testing the functionality of the samples next week. Please keep following us, we will continue to update all the progress of the final version of Maespresso 58.

Sincerely,
David Smith
_______________________________________________________________________

June 13, 2023

Hi,

This is David, the co-designer of Maespresso 58.
Starting today, I will update all the progress and news about Maespresso 58 here from time to time.
If you are very interested in Maespresso 58, then I believe this information will be very helpful to you.

So let's get to the point:
The product part:
The one currently displayed on our website is not final version.
Compared with the version shown on the website, we redesigned the portafilter, leveler, stand, and puck screen, and added a silicone water tray to the stand;
New portafilter: the handle part has become shortened, and the WDT tool can be hidden in the handle;
New leveler: the new leveler has combined distribution and tamping features into one tool;
New stand: 15mm higher than the previous version;
New puck screen: a small handle is added, which is more convenient to put and take out;
Added water tray: more convenient to clean.
All these upgrades are still under processing and verification, and we should be able to see the final version at the end of June.


The preorder part:
If nothing unexpected happens, we plan to open the pre-sale in mid-July. But if there is something wrong with the final version sample, then it would probably delay. Anyways, if you got more questions or suggestions about the product, we would love to hear from you. You can join us via this new Discord community for Maespresso 58:

https://discord.gg/TwbHHEJF

.
In the Discord community, I would be able to communicate with you in real-time, and hopefully, you might find out Maespresso 58 is truly indeed a great espresso maker.

Sincerely,
David Smith